How does it work, and what does it do?
RealTraffic consolidates data from multiple international ADS-B and multilateration networks to obtain information about other airplanes near the position of your (simulated) aircraft – in realtime, live! It then injects this traffic into the PSX 747 simulator for which it was originally built, but in the meantime it also works nicely with PSXSeeconTraffic to bring traffic into the P3D and FSX worlds. For PSX, internal limits only let it handle 7 aircraft near your position, so the nearest 7 traffic targets are injected into PSX so that they can appear in the TCAS system and the cockpit window view. For P3D and FSX, the raw power of your computing rig determines the limit.
The software also allows broadcasting of all the traffic it is receiving via UDP protocol. This allows third party applications such as Foreflight on the iPad to display all the traffic on its moving map display. Other applications are under development by third party developers.
Download links for version 4.0.5
Download for Windows (3MB) | Download Standalone for Windows (42MB) | Download for OS X (3MB) | Download Standalone for OS X (58MB) | Download for Linux (3MB)
VERY IMPORTANT, PLEASE READ PRIOR TO PURCHASING A LICENSE:
– Please download the software and test whether it does what you want it to prior to purchasing a license. During the demonstration time the software is fully functional!
– If you want to use it for more than 3 x 10 minutes every 24 hours, please purchase a license.
– You will instantly receive your license via email. If you do not receive a license within 5 minutes, please email sales@inside.net.
– You are acquiring a time limited license to the software, NOT the traffic data! Traffic data is provided on a best effort basis and cannot be guaranteed to be up to date or available at all times!
– Last but not least: If your name is written in Chinese, or Arabic, or Cyrillic in PayPal, please change it to use a westernised name, otherwise the license will need to be re-issued to a westernised version of your name. This will require manual processing and therefore will cause delays in obtaining your license.

12 month license (all platforms) USD $9.99
What to do if there is a problem with RealTraffic and it doesn't behave as expected?
RealTraffic has been shown to run on thousands of computer configurations without problems: Windows 7/8/10, OS X, and Linux. In the unlikely event of a problem, please follow these few simple steps before contacting us with a support request:
Remove any equipment from your network that might be trying to put itself inbetween your computer and the remote server on any data connections being made using the SSL protocol. This will result in security exceptions and the connection won't succeed.
Make sure you can access https://secure.inside.net from a web browser on the same computer. If you can't, the problem is network related, either our server is down, or your connection is causing trouble
If the problems still persist, try downloading the "standalone" version as it includes all of the required runtime libraries and will run independently of your locally installed Java Runtime Environment (JRE).
Finally, make sure you have all the software bits and bobs connected. RealTraffic is largely "add-on" agnostic – it doesn't know whom it is talking to on the server port, whether that's PSX, PSXSeeconTraffic, or another third party app. Make sure they are indeed providing the data RealTraffic needs to function.
If it still doesn't work, have a look at the PSXSeeconTraffic forum for support.
And then, as a last step, if you're really convinced you've found a new bug, please contact us via email: support at inside.net
As of release 4.0.4, you can start RealTraffic in debugging mode from the command line / terminal. This can help you locate problems with your installation. On Windows, simply change into the directory the software is located and run "java -jar RealTraffic.exe debug" and watch the console for debugging output.
Screenshots
Approaching RWY28R at KSFO there are numerous other airplanes visible in the RealTraffic screen to the left, as well as in the TCAS (note that the gear lever is up still, TCAS limits displayed information to RA's only when the gear is down).
Following are some more screenshots showing traffic as shown in RealTraffic and in the PSX cockpit. If you are seeing traffic in the RealTraffic application, but you can't see the traffic in TCAS, make sure you have the display of traffic on your navigation display enabled by pressing the TFC button on the EFIS control panel.
Testing the system by climbing into the approaching Etihad 183 (a Boeing 777W). Watch the TCAS RA on the PFD/ND to the right.
The traffic is also visible in the new Foreflight display: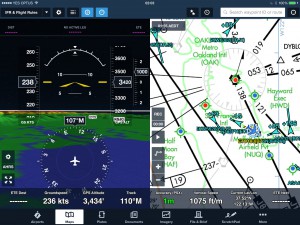 Release history
4.0.5
– stability improvements.
4.0.4
– added console debugging output.
4.0.3
– allows zooming into the radar map to 0.25 NM diameter.
– fixed internal UDP socket bindings so third party apps can bind onto the same ports and network interfaces without blocking each other.
3.0.6
– automatically establishes connection to the PSX server
– cooperates with Nico Kaan's PSXseeconTraffic to bring RealTraffic into FSX/P3D world
3.0.5
– fixed network latency issue.
3.0.4
– updated network traffic format.
3.0.3
– added ability to disable PSX traffic injection.
3.0.2
– a minor bug was corrected.
– the windows program and setup executables are now cryptographically signed.
3.0.1
– Make the individual sections collapsible.
– Always persist settings on exit.
3.0.0
– Fixes flipping traffic in PSX: Traffic now no longer makes sudden jerky motions in PSX.
– Provides platform specific user interfaces including installers for Windows and OSX.
2.0.1
– 10 minute time limit on the free demo.
1.1.19
– AIR/GND traffic or automatic traffic selection is now possible.
1.1.15
– Disable connection failure dialog box on autostarted reconnect. Now only displays when manually connecting.
– Obtain correct broadcast address for currently selected IPv4 interface
1.1.14
– Automatically reconnects if PSX disconnects, the network connection drops, or PSX is restarted.
– Displays ground traffic as well
1.1.13
– First public non-beta release.